Movie tag reloaded & fired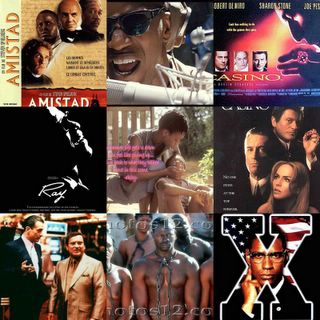 T

his
Movie Tag was passed on by
wg-K
and as expected I share mine & pass it on to the 5 victims at the bottom of this post. Grrrrrr, hahaha!!
----------
1.
T
otal
number of films I own on dvd/video: At least 35 DVDs and 5 videos. Only 2 videos taped from Tv, the rest original copies. Just like my music, I have no bootlegs or downloads---I oppose illegal downloads (theft) for anyone living in N. America.
2.
T
he
last film I bought:
Ray
, 2 weeks before the Oscars.
3.
T
he
last film I watched:
At the movies:
Crash
(amazing, must-see movie. Best I've seen this year.
Terrence Howard
, Don Cheadle &
Larenz Tate
were amazing! Am sure they'll get at least 2 awards this yr)
-On Tv, last evening:
Faith of My Fathers
: The Story of Senator John McCain as a POW in Vietnam. Very moving story. Like
wg-k
, will add a few movies I plan on watching soon:
*At the theatre:
Hustle & Flow
opening late June (another great one starring Terrence Howard & Ludacris)
*On Tv or at home:
Sometimes in April
, as is highly recommended
here
by my friend
Wanjiru
. She admits it's a masterpiece in the same calibre as Hotel Rwanda.
Not a movie, but more of the
Kojak
Tv series starring & produced by the incredible
Ving Rhames
(Sundays 11pm on USA Network)
4.
F
ive
films
that I watch a lot or that mean a lot to me: am more into music than movies but will try:)
·
Malcolm X
, Denzel brought the civil rights leader to life in ways I couldn't ever imagine. Props to him, the entire cast & Spike Lee for keeping it very real (like it so much have both tape & DVD).
·
Ray
…what's not to say about Jamie Foxx's masterpiece of a performance that brought the great Ray Charles Robinson to life!? The whole cast including Regina King, Larenz Tate (am a big fan!) as the young Quincy Jones, Clifton Powell, et al was just perfect. Taylor Hackford (director) did this movie the justice it deserves.
·
Tupac Resurrection
: There's very little my siblings & I don't know about the Man, the Myth & the Legend but this movie brings out the often ignored human side of Amaru Shakur. It successfully highlights his deep spiritual, emotional, and intellectual side that makes him a world-renowned figure. Forget the F-word in his music, don't crucify him for using it on his detractors (I know I could do worse to mine). Listen to the profound, life-changing & uplifting message in his lyrics & poetry. Props to his mom Afeni & MTV's Lauren Lazin for a job well done.
Update: Dru Ryan, a loyal fan wrote a scholarly paper on 2Pac for his class:
http://classweb.gmu.edu/ajryan/pac_right.pdf
·
Amistad
: I am passionate about all things to do with slavery & the slave trade. This is more than a movie to me. It's a look at human, racial relations & the prejudice that comes with them. The good & bad sides of Black & White and what should be done to harmonize relations…more than 500 yrs since the inhuman trade flourished. Plus, "Gives us free" always cracks me up:)!!
·
Casino
: Robert Deniro & Joe Pesci are among my most fav actors & they do a great job alongside Sharon Stone in personifying the main players in the events that led to turning Las Vegas into the "gaming capital of the world". Many of life's lessons in this movie too.
· Am a big fan of Mob movies, books & docudramas. Blame that on reading Mario Puzzo's The Godfather, & The Sicilian at 14yrs old, and by 17 yrs old had twice read The Valachi Papers, The True Confessions of a Mob Leader & The Stiletto.
5.
Tag five people
and have them put this in their journal: The tag came as a surprise to me but I kinda enjoyed doing it. Hope the following don't mind keeping it going.... so I will tag
Maitha
,
Wanjiru
,
Afromusing
,
Adrian
and
Guessaurus
. Enjoy & Chako!